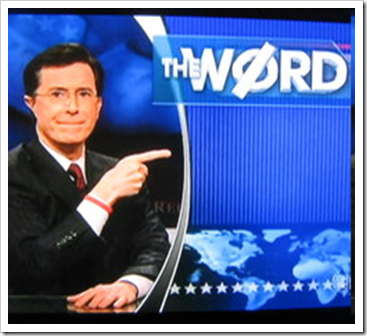 On The Colbert Report , it's called "The Word".  In Web 2.0, it's called "transparency ".
Historically, it's called "telling the truth".
As I was working on a more serious post about Zappos , I could not push aside my annoyance at the contradiction between the way the Zappos layoff has been discussed in the general press, and the way it looks when you think about what's between the words.
So, just for the fun of it, let's consider:
What would it be like if a CEO explained a layoff in a way that really was transparent?
From the text of the email to Zappos Employees,
What Tony Hsieh, CEO, wrote:
What Stephen Colbert would say:

Today has been a tough, emotional day for everyone at Zappos. We made the hard choice of laying off about 8% of our employees. The layoffs will affect almost every single department at Zappos. …
130 of you have just been fired.
This is one of the hardest decisions we've had to make over the past 9.5 years, but we believe that it is the right decision  for the long term health of the company.
Forget the "we" language.

It's hard to admit it, but I'm desperate. I'd rather lay folks off than cut my pay, reduce the value of my stock, or disappoint my investors.

We feel fortunate that we have Sequoia Capital as an investor  who had the foresight to see the ramifications of the tough economic times that lie ahead for all of us. [Sequoia sent us] one very clear message: Cut expenses as much as possible and get to profitability and cash flow positive as soon as possible. …
My investors are pressuring us to cut costs, because they don't want to lose any of their money.

They don't necessarily share our corporate values. They just own us.

Fortunately for Zappos, we're in a much better position than many other companies. Unlike many other companies, we are  still growing and already profitable and cash flow positive. And we are also fortunate that we have a revolving line of credit from Wells Fargo, US Bank, and Keybank. This line of credit has given us a lot of financial flexibility. However, given the current economic uncertainty, we believe it's prudent to reduce our reliance on debt financing.
Our business is actually in a good place.

Growth, profits, and decent cash flow.

All good!

We've decided the right thing to do for the company is to be proactive instead of reactive. We are proactively cutting back some of our expenses today so that we can take care of our employees properly, instead of being reactive and waiting until we are forced to cut expenses.
But it's easier to fire people now, rather than wait.


Plus, if we fire people now, we can give them a little bit more on their way out. We can help them out, assuage our guilt, and make us look good, all at the same time.

Because we are still growing and are already profitable, we do  not have to take as drastic of a step as most other companies of our size. Last year, we did $840 mm in gross merchandise sales, and this year we are forecasting to do about $1 billion in gross merchandise sales. However, when we first put together our 2008 plan at the end of 2007, we were expecting our gross merchandise sales to be even higher than $1 billion.
As I said, business is pretty good. We aren't making quite as much money as we'd hoped.

But it's still a lot of money.

Because of all this, we are reducing our staff by 8%, but …
Because business is pretty good, we're only going to fire a few people.
… because we are being proactive instead of reactive about it,  we are able to take care of our employees and offer them more than the standard 2 weeks severance (or no severance) that most other companies are giving. We are offering to pay each laid-off employee through the end of the year (about 2 months)…
We honestly did our best to make the firing as pleasant as possible.

Hey, it's not like they get nothing!

In fact, their health benefits will be extended almost as long as if they were VP's.

… and offering an additional amount for employees that have  been with us for 3 or more years.In addition, because our regular health benefits cover 100% medical, dental, and vision for employees and 50% for spouses and dependents, we decided to offer to reimburse laid-off employees for up to  6 months of COBRA payments.
See, we value how long you've been part of the family!

That said, we did choose to fire the call center employees making $16/hour, while keeping on the new hires who make $10.50/hr. That was just being economical.

Loyalty and experience don't really matter that much to customer service, in the end, do they?
In doing all of this to take care of laid-off employees, we expect that it will actually increase, not decrease, our costs for 2008, but we feel this is the right thing to do for our employees.
We're actually being pretty generous, don't you think?


It's a short term cost, but we'll still be profitable.

It will put us in the position of having a lot more financial flexibility in being able to respond to potential changes in the economy in 2009.
Actually, you can even look at firing all these people as a kind of investment in our future! Wow!
Ecommerce … is still growing. Within the footwear category, we are the online market leader. ..(T)he strongest players in any market have an opportunity to gain even more market share, even if overall growth may be slower. Historically, we have actually grown faster than the overall ecommerce market, and we anticipate for that to continue in 2009. For the rest of 2008 as well as for 2009, we anticipate continuing to grow year over year. Our current forecasts are that we will continue to be profitable and cash flow positive, as long as we are proactive instead of reactive in managing our business and financials.
As I was saying, we are actually doing pretty well, business-wise.


If we fire people now, and get more work out of the rest of you, we might get even more profitable. That would be great!


We can still grow, even if we fire people.


We really like to be 'cash flow positive'. Yes we do.

I know that many tears were shed today, both by laid-off and non-laid-off employees alike. Given our family culture , our layoffs are much tougher emotionally than they would be at many other companies.
I do feel sad that

we

I haven't lived up to all the hype.

Given what I've sold you over the years, I can't be that surprised if you feel betrayed. Sorry.

I've been asked by some employees whether it's okay to twitter about what's going on.Our Twitter policy remains the same as it's always been: just be real, and use your best judgement (sic).
We've gotten a lot of positive press because of our Twitter policy and profile— keep up the good work!


Even though we have an 'open' Twitter policy, we do expect you all to be "committed" to our "family" culture. Ya hear?

These are tough times for everyone, and I'm sure there will be many follow up questions to this email. If you have any questions about your specific job or department, please talk to your department manager.
Questions?


You really thought this was a family?

For all other questions, comments, or thoughts, please feel free to email me.
I may or may not respond, but I'll still get lots of good press for being so open on Twitter. Social media is a great distraction, for you, for me, and for my our reputation!
So, who would you rather hear it from?
Colbert, bring it on.