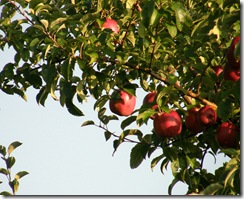 Claiming your authentic identity can be good for your organization.
Sometimes, getting back to the core of "who you are" can help your organization create a distinctive position relative to competitors.
This is the reasoning behind the new ad campaign by Musselman's (the company photo credit : fauxto_digit
that makes applesauce, apple juice, and other fruit based products) that highlights the fact that Musselman's is"grower-owned".
As reported by Nina M. Lentini, in MediaPost's Marketing Daily , Musselman's Repositions Self As Co-op, Not Corporate , to differentiate itself more clearly from Mott's, the category giant. Musselman's is a division of Knouse Foods , one of the largest apple products processors in the world. Knouse Foods is a cooperative, and is owned by "nearly 600 farming families."
Why refocus your identity?
Because being "grower-owned" is an authentic attribute, and one that Knouse appears to be proud of, using this attribute to promote their organizations' brands is almost a no-brainer. First, Musselman's internal research showed that the feature "grower-owned" suggests quality and freshness, attributes that ought to be attractive to their target market, moms.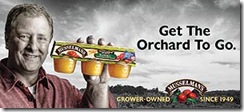 But also, the "grower-owned" attribute also has a bit of a halo effect. It conjures up images of farmers being closer to the earth.
Additional images of the organization, too
Plus, because the owners are also the workers and suppliers, one might assume that a grower-owned fruit company might be less likely to exploit workers or make choices that allow short-term profit pressures to dominate the long term interests of the farms and farm families.
Musselman's can't be all about profit, because it also has to continue to support (and report to) the families who own the farms that supply them and own them. As the Knouse website explains:
You see, we're as committed to preserving our unbroken history of excellence as we are to protecting the American dream by allowing the family farm to prosper.
(Musselman's/Knouse has a great reputation in the communities where they have had facilities. Check out this lovely story on a plant closing in West Virgina: Knouse Food Honored for Contributions to Community. )
As a grower cooperative, Musselman's is both for-profit and for-purpose.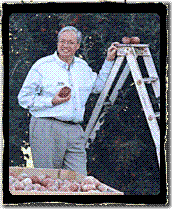 Benefits within the organization?
While Musselman's repositioning is intended to craft a (more) attractive image for the Musselman's brand in the eyes of the grocery shopper, the repositioning might also have some positive effects within the organization itself.
Musselman is claiming a part of their authentic identity that has not really been part of their larger public image up until now. By claiming this identity and by advertising it, Musselman's will be reminding its own employees and owners of its authentic heritage and identity.
— How will reinforcing this grower-owned, cooperative identity influence the ways that Musselman's/ Knouse makes decisions that don't have an impact on their marketing?
— Will it help to reinforce Musselman's collective sense of self as grower-owned?
— Will it increase Musselman's emphasis on issues (seemingly) relevant to farmers, like organic-ness and sustainability?
— Will this refocus on the grower-owned identity draw out other authentic identity elements?
— Will the organization enjoy and benefit from being more authentic?
What else do you think might happen, as Musselman's gets down to the core of 'who we are'?