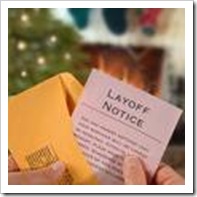 The latest report of the Bureau of Labor Statistics states that in September 2008 alone, 2,269 companies executed a "mass layoff" . (A "mass layoff" is defined as firing at least 50 employees at one time from the organization.) This is the highest number of organizations executing a mass layoff since September of 2001.
While this large number of mass layoffs can be seen as a reaction to what is clearly now a recession, how many of these layoffs actually reflect an authentic organizational response to the downturn in the economy?
What constitutes an authentic organizational response?
An an authentic organizational response is an deliberate action plan that demonstrates the qualities, values and priorities that the organization claims to define it. An authentic response demonstrates that the organization is who it says it is.
So how many of these 'mass layoff' organizations should have responded differently to sustain authenticity? Or, said another way, how many of these organizations probably acted inauthentically?
By my calculation, at least 168.
Here's how I get that number—
First, hold at bay the assumption that layoffs were the only way to cut costs. (Yes, this is a big assumption, but bear with me).
Second, consider that an overwhelming majority of organizations large enough to fire 50 employees and still remain standing have mission statements and/or statements of corporate values. (Let's estimate that number at 75%.)
If virtually every corporate mission or values statement (say, 99%) includes a claim about "valuing employees", but if only 10% of these statements are meaningful (according to Chris K. Bart , a professor of strategy and governance at McMaster University), then about 168 of these organizations have meaningful mission statements, statements that supposedly matter to them, that included some claims about valuing employees.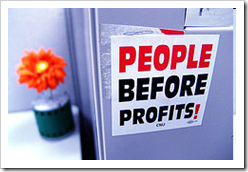 How many of these 168 organizations had a mass layoff that contradicted its claimed values?
Probably all of them.
It's too late for these 168 organizations to respond in a more authentic way, but there are options for organizations that want to respond to the economic crisis in a way that demonstrates and strengthens their authenticity.
How might they go about crafting their authentic response?
First, these organizations should turn to their identity, mission and/or values statements to remind themselves of how they want to 'be' as an organization.
Next, they should ask themselves:
"What does it mean to be (who we are)?
What kinds of behaviors reflect these characteristics?
Then, they should generate and evaluate their options, considering:
"What ways can we cut costs and/or expand opportunities, in ways that demonstrate the qualities that define us ?
What ways can we cut costs and/or expand opportunities, in ways that demonstrate what we collectively value ?
There are many examples of organizations that are responding to the economic crisis in creative ways , with action plans that might be just the thing to cut costs while strengthening authenticity. A simple google gives me 273,000 cites for "creative ways to avoid layoffs." There are some models out there.
Consider, for example, these creative layoff strategies, from Salary.com (thanks to Corporate Eye for the tip )
| | |
| --- | --- |
| Company | Strategy |
| | |
| 415 Productions | The company offered either an overall 5 percent pay cut, or a four-day work week reflecting the appropriate decrease in pay. |
| Acxiom Corporation | Everyone took a 5 percent mandatory pay cut, plus an additional 5 percent volunteer pay cut,tempered with increased stock options. |
| Charles Schwab Corp. | The company guaranteed a $7,500 bonus for any affected employee who gets rehired within 18 months. In addition, company founder Charles Schwab and his wife have created a $10 million educational fund for these workers. The fund will cover as much as $20,000 worth of tuition over two years at accredited academic institutions. |
| Texas Instruments | The chip maker began "lending" several human-resources staffers to vendors for as many as eight months, with the intention of bringing them back to their original jobs at the end of that period. The supplier reimburses Texas Instruments for the staffers' salaries during the loan period and agrees not to offer them a permanent job. |

The Charles Schwab Corp. emphasizes the importance of trust-based relationships in both the market and the workplace. Its corporate values statement uses the acronym FERSTT, which stands for Fairness, Empathy, Responsiveness, Striving, Trustworthiness and Teamwork.
Texas instruments, for its part, is cited as one of 2008's most ethical companies, by Ethisphere, and has a reputation for being family friendly and prioritizing employee well-being. [I did not find an online values statement for either Acxiom or 415 Productions.]
Responding authentically to economic crises does not automatically mean no layoffs. At organizations where they live by the numbers, they die by the numbers. Where profits are the only priority, layoffs can be the authentic response.
And, even for organizations that strive to be authentic and/or that have great reputations for valuing employees, layoffs may be inevitable…and may even be the right choice. (Maybe Zappo's becomes a good example of authentic layoffs?)
But the point is — rarely is a layoff the best way to demonstrate that your organization values employees (and we've all seen the unconvincing  ratiocinations).
The place to start is with responses that demonstrate who you are as an organization and that put your values and priorities into action.