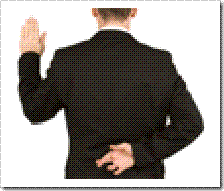 What hurts more:
(a) An offensive organizational action or
(b) an offensive action that displays inauthenticity?
I vote for (b). An offensive action that displays inauthenticity hurts more than an action that is simply offensive.  Why? Because an offensive inauthentic action represents a broken promise.
When an organization makes a claim to be a certain way, it is making a promise to its stakeholders. When an organization like Omnicom says "We are committed to ensuring that we use our position to promote socially responsible policies and practices and that we make positive contributions to society", we take that as a promise. When an organization like Tyson Food says "we strive to be faith friendly", we take that as a promise. Omnicom promises to be socially responsible, and Tyson promises to be faith friendly. In both cases, we expect the organization to keep its work and to keep its promise.
A Promise is a Promise
The cynics within and among us can mock our naivete. Why should we expect an organization to keep its word about socially responsible behavior?   Well, if we expect organizations to keep their word about using quoted market prices to determine the fair value of their forward foreign exchange contracts, why shouldn't we expect them to keep their word about the way they've committed to promote social responsibility?
Investors bet a lot of money that Omnicom will keep the promises it makes in its financial statements…so why should Omnicom's promises about their social practices be any less of a sure thing?
An organization's promises about its financial practices and its promises about its social practices are essentially the same thing. They are promises that an organization will act in accordance with its words. They are promises that the organization will be authentic. So, when an organization's offensive actions contradict its promised actions, the actions are inauthentic.
Broken Promises Double the Harm
Offensive actions that are also inauthentic harm an organization's stakeholders twice. First, they harm stakeholders by their offensiveness, plain and simple. Second, they harm stakeholders by demonstrating that the organization doesn't keep its word. Each time an organization fails to keep its word, our trust in that organization erodes.
It was suggested in comments on an earlier post about a homophobic advertisement for Snickers, that "we are really offended and harmed not by the inconsistency between actions and policies of the ad agency), but by the homophobia (in the ad itself)".  I absolutely agree that the homophobic ad itself is harmful, and I agree that acting to stop that harm as quickly as possible is always appropriate.  But there is more to it than that.
In addition to fixing the current harm, organizations need to fix the systems that lead them to harm their stakeholders in the first place.  In other words, organizations need to fix the systems that allow them to act inauthentically.
Promise to Keep the Organization's Promises, by Being Authentic
While stopping the immediate harm is important, it is also important to prevent harm in the future. A strategy that addresses the source of the current harm is worth pursuing, even if this strategy might take longer to have an effect. In the case of Omnicom, pressuring the ad agency to act authentically would prevent future homophobic ads and prevent homophobic actions anywhere in the organization. Pressuring the organization to act authentically would have the additional benefit of helping the organization to keep any of its promises, regardless of whether these promises are financial or social.
Similarly, systems that help Tyson Foods to act authentically instead of inauthentically would help Tyson find ways to keep its promise to "strive to be a faith friendly company." In addition to resolving the current issue of respecting the holy days of its Muslim employees, pressing Tyson to act authentically would prevent Tyson from demonstrating bad faith. Instead, Tyson would be motivated to find new ways to be faith friendly, by holding itself accountable for evolving its understanding of what it means to be faith-friendly to every stakeholder, to every faith, in any situation.
Organizations have systems in place to make sure that they keep their financial promises, and they should put systems into place to make sure that they keep their social promises, too.  Pressing an organization to act authentically helps to fix the immediate harm, to prevent future harm, and to keep any and all of the organization's promises.
Technorati Tags: Tyson Foods,Omnicom,organizational authenticity,authentic organizations,diversity,change managment,leadership