Does an organization's authenticity protect it somehow, and make it stronger? S houldn't it be harder to influence, harder to infiltrate, harder to damage an organization where identity, image and action support each other?

Whenever I noticed an organization differ from its industry's norm, or noticed a subsidiary doing something completely different from its corporate owner, I imagined that these distinctive organizations stayed that way, in spite of pressures to conform or change, because they remained authentic . They remained clear about who they were, what they said they were, and acted accordingly.
VS

One such situation, which I have watched over the last 10 years now, has been the relationship between The Pleasant Company and Mattel . The Pleasant Company , maker of American Girl dolls , was acquired by Mattel in 1998. (The Pleasant Company is operated as an independent subsidiary, based in Middleton, WI.)
At the time of the acquisition, I wondered how long it would take before Mattel quashed the uniqueness of American Girl, driving out what was special and rather precious about that product and the organization that made it. I wasn't optimistic about American Girls' prospects… after all, Pleasant Rowland created her company, designed her dolls and created their matching historical books explicitly to counteract (and offer an alternative to ) the worldview represented by Mattel's best-selling Barbie . American Girl Dolls were even called the "Barbie backlash product ".
I was relieved, each time I touched base with American Girl, either by visiting the stores , reading the magazine with my girls, or looking through the catalog, to see that what made American Girls dolls so special was still intact.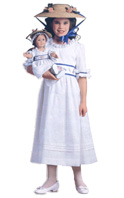 Sure, there were little differences … the "dress like your doll " historical outfits were discontinued, the emphasis shifted from historical dolls to contemporary dolls, there were more movies and more products .. but none of these changes seemed to reflect a wholesale loss of authenticity. American Girl seemed to be absorbing the marketing sophistication (and a bit of the consumerism ) of Mattel, but the core values about who girls should be , how girls should play, and what toys should be created for girls, still seemed to be represented in the products themselves and in the ways the products were presented. Whew.
Then they went and broke my heart, with this : (Thanks to Joe Pine for the heads up.) Yes, this is a Barbie toy, offered as an accessory to the 1970's American Girl Doll, Julie.
Great, now you and your American Girl doll can obsess over hairstyles, and make-up, and boys.
The Barbie Beauty Center is presented to the American Girl customer as "one of the most popular gifts for girls in (Julie's) day". So that's supposed to make it more authentic? Because it's historically 'accurate', even though it contradicts American Girl values ?
What makes the appearance of Barbie in the world of American Girl all the more surprising is that, financially speaking , American Girl is much more popular and profitable than Barbie these days. So this isn't a situation where the more 'valuable' system wins– it's more like a situation where the more 'valuable' system is taken advantage of. My hunch (disclaimers#1 & #3 ) is that the identity of Mattel is just more powerful than the identity of American Girl.
Maybe I should feel better that it's taken 10 years for Barbie to encroach upon the world of American Girls? I just wish that the influence was in the other direction.

Technorati Tags: American girl dolls , Barbie , Mattel , authenticity , organizations , sell out ,